Find Out Which Services are Available in Your Area
With your location and a few pieces of information, we can determine which services are available in your area. We rely on multiple technologies to offer more internet access choices. If you prefer, call us at (817) 259-1100
Satisfaction Guaranteed
If you are not satisfied with your service for any reason, simply give us a call and we will do our best to make things right!
We're Local
Cirra Networks is based in Fort Worth and our employees are working and living in your local communities. We have been serving our residents and businesses as independent operators for well over a decade before we founded Cirra Networks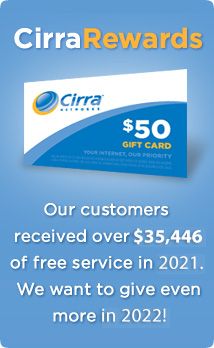 Help Us Expand
We are always interested in expanding our coverage within our existing and new areas. If you have land and are interested in helping us expand our coverage area, learn more and then, get in touch with us.