I wanted to take a minute to let you know just how "HAPPY" we have been with your service. We had been using Hughesnet satellite service for years and I have to tell you that the difference is like the difference between night and day.
One of the biggest things that I was NEVER able to do at Hughesnet was stream video. I was always telling my friends to not bother sending me any Youtube stuff because I was not able to watch it. We always had to worry about their "Fair Access Policy" which severely limited us to only 650 MB downloaded a day.
What a difference it has been with Cirra Net! My wife is a big fan of World of Warcraft. She tells me that the difference in performance is Sooooooo much better now that we use Cirra Net. My only regret is that we didn't make the switch a long time ago!
So keep up the good work. We are "Very" satisfied customers and we are more than happy to let anyone that is in a rural environment know about your operation. I.W.
Mineral Wells
This is a thank you for the guys in tech support. Josh and Jerry were very good at staying the course until I got the problem solved with my internet email. They went the extra mile and even called me to see how things were with my system. What a great crew. Thanks again. Emmet H.
Azle, TX
I want to let everyone at Cirra know how helpful Jerry has been. He helped me determine that I had a bad router at around 5pm today. I went and purchased a new one and tried to install it. I took a break to eat dinner and was a little frustrated because the setup was not going well. After dinner, I returned to work on this problem when the phone rang. It was 7pm and Jerry was checking on my router problem because the Cirra phones were turning off. He spent the next 40 minutes helping me get properly connected. Please reward him for his faithful service. I have never had anyone at Mesh [Cirra Networks] treat me with such kindness. Jerry has certainly gone above and beyond the call of duty to help this customer. Please forward this message to the appropriate people. Thank you. Laura V.
I think there is something in the air. [My friend] called and said we have some good people working for us....I believe this would be David? Whatever you guys are doing keep up the good work. The customers are LOVING it. Thanks,
Shelly
One day in early June, I had the occasion to call your company and ask for technical help. I was trying to access, through our Futurenet [Cirra Networks] a program on our computer, and I needed MUCH HELP! ... To my good fortune, Brandy was your employee that took my call that morning. Upon explaining to Brandy how "computer challenged" I was, she took it upon herself to help me in every way she could. I found her to be very knowledgeable and EXTREMELY patient with me as she spent a VERY LONG TIME on the phone with me that morning and gave me very helpful and explicit instructions!!! ... Even though this letter is long overdue, I am still SO appreciative of your employee's help. Please see that this heartfelt letter is placed into Brandy's personnel file, and please see that she is made aware of its being there. Jane S.
Weatherford
Thanks so much for your help getting my email to work again. What you sent worked great1 I hada message in my outbos most of today and it sent it fine after I did what you said. Thanks again for your help. Sorry I had to bother you on a weekend but I appreciate the great service you provided. Wade H.
Hello,
The installer (Casey) did a great job! Thank you for rescuing us from SkyBeam! Best Regards.....Kirk S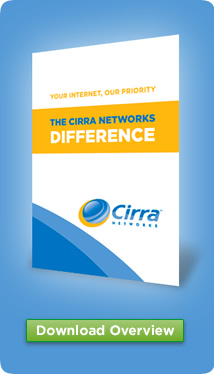 FAQ
We are growing our list of Frequently Asked Questions. If you have a question not listed, please send an email to support@cirranet.net
We're Local
Cirra Networks is based in Fort Worth and our employees are working and living in your local communities. We have been serving our residents and businesses as independent operators for well over a decade before we founded Cirra Networks